Skip Global navigation and goto content
Left navigation requires javascript to be enabled in your browser.
Mosquito Bite Protection for Residents and Visitors
Florida Department of Health in Monroe County
 

Mailing Address

1100 Simonton St. 

Key West, FL 

33040 
The Florida Department of Health has information readily available for residents and visitors regarding mosquito bite prevention.  Mosquitoes spread viruses and parasites that cause diseases like chikungunya, Dengue, Zika and malaria. Before you travel to areas where these diseases are found, talk to your health care provider about your health concerns.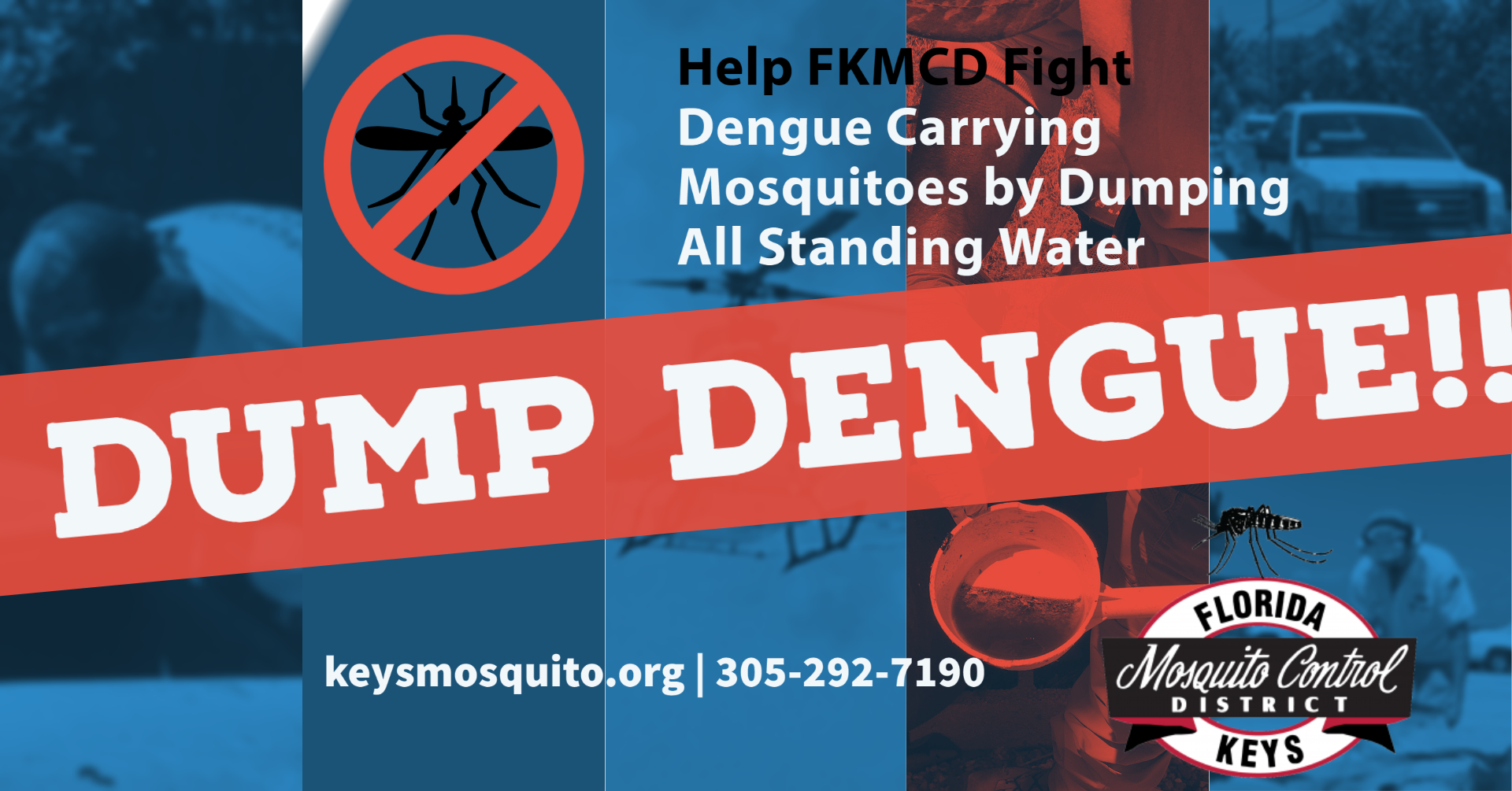 Since March 2020, the Florida Department of Health and the Florida Keys Mosquito Control District (FKMCD) have been working diligently to address the Dengue fever outbreak in Monroe County. The Department and FKMCD highlight the actions taken thus far to respond to this outbreak.
See the latest information about Mosquito-Borne Disease Surveillance.
Actions taken in Monroe County:
When persons of interest --or suspected cases— of Dengue fever are identified, FKMCD is notified and appropriate mosquito control efforts are conducted immediately.
FKMCD inspectors go door-to-door to treat every residence and business in a three-block radius from the suspected case location and/or other outdoor areas visited. Any adult and/or larval mosquitoes found are treated on the spot. Truck and/or aerial adulticide and larvicide treatments were conducted throughout the areas of concern to reduce the mosquito population. Hand foggers were also used in certain areas. Mosquito traps are placed in the area to monitor the Aedes aegypti population. Collected mosquitoes are subsequently tested for mosquito-borne diseases.
FKMCD is seeing fewer Aedes aegypti mosquitoes being trapped. This decrease, along with actions taken by FKMCD and the community, is indicative of the decreased number of acute cases being identified over time by DOH.
FKMCD continues to use the stadium at Key Largo School as a makeshift landing and loading zone as part of the agency's enhanced response, utilizing the site twice per week.
DOH issued press releases within the same day that acute cases of Dengue fever are confirmed with a reminder for residents and visitors stay vigilant, and take appropriate action to prevention mosquitoes from biting.
DOH set up a call line for residents to call who have questions or are exhibiting symptoms of Dengue fever. They are asked to call 305-293-7500, Option 3.
Robust Dengue fever prevention campaign, "Dump Dengue," has been launched by FKMCD, including radio advertising, press releases, and social media advertising.
Thousands of door hangers and flyers are being disseminated in the Upper Keys area calling attention specifically to Dengue fever.  
FKMCD worked with the Neighborhood Association President in the community most impacted. Through that cooperation, residents were emailed a newsletter containing situation updates and preventive measures directly.
Mosquito repellant was provided by DOH and distributed widely by FKMCD. 
"While the Dengue fever outbreak is not over yet, residents and visitors need to remain vigilant and take the appropriate actions to prevent mosquitoes from biting. While the Florida Keys Mosquito Control District acts to address the mosquito population, it is important to remember that rainy season continues through the rest of the year. It takes a village to control the spread of this disease," says Andrea Leal, Executive Director for the Florida Keys Mosquito Control District.
"The actions taken by the Florida Keys Mosquito Control District and the community prove to be promising. Recent Dengue transmission in the Upper Keys has been limited, with new cases, hopefully, on the decline," says Dr. Mark Whiteside, Medical Director for the Florida Department of Health in Monroe County. "It's important for residents to continue following basic mosquito bite prevention methods to help end the outbreak."
These measures include intact windows and screens and the use of air conditioning, keeping the area around your residence free from containers that collect water, wearing protective clothing, and the appropriate use of insect repellents after applying sunscreen. Spray out outdoor plants on a regular basis, such as bromeliads and crotons. The Department also reminds all residents to drain all standing water at least once per week and designate individuals to share this key responsibility within the business or household.
For more information, visit the Department's Dengue Resource Page or Florida Keys Mosquito Control District.
If you are experiencing any symptoms or have additional questions, please call DOH-Monroe at 305-293-7500 and choose option 3. To place a service request with FKMCD, visit Florida Keys Mosquito Control District or call 305-292-7190.
Additional resources: