Skip Global navigation and goto content
Monroe County Mental Health and Wellness Resources
Florida Department of Health in Monroe County
 

Mailing Address

P.O. Box 6193 

Key West, FL 

33040 
Taking care of yourself during this time is especially important. This crisis is temporary. Your mental health is just as important as your physical health. There is always help available. Please do not hesitate to ask for help.  The following are free resources available for Monroe County residents.  
Florida Keys Community Resource Guide

View the most comprehensive Monroe County Community Resource Guide, featuring everything you need to know to take care of yourself and your family by the United Way of Collier and the Keys. Information is available in English, Spanish, and Creole.  This website has support services, including mental health, substance abuse prevention, services for victims of domestic violence and sexual assault, and family support services.  Click on and expand "Mental Health & Substance Abuse."
Health and Well-Being Resources for Monroe County
Guidance/Care Center, Inc. (GCC) provides behavioral health services, education, and support for the entire family. GCC serves all clients regardless of inability to pay. Discounts for essential services are offered based on family size and income.  Call (305) 434-7660 Option 8, 24 hours a day, 7 days a week.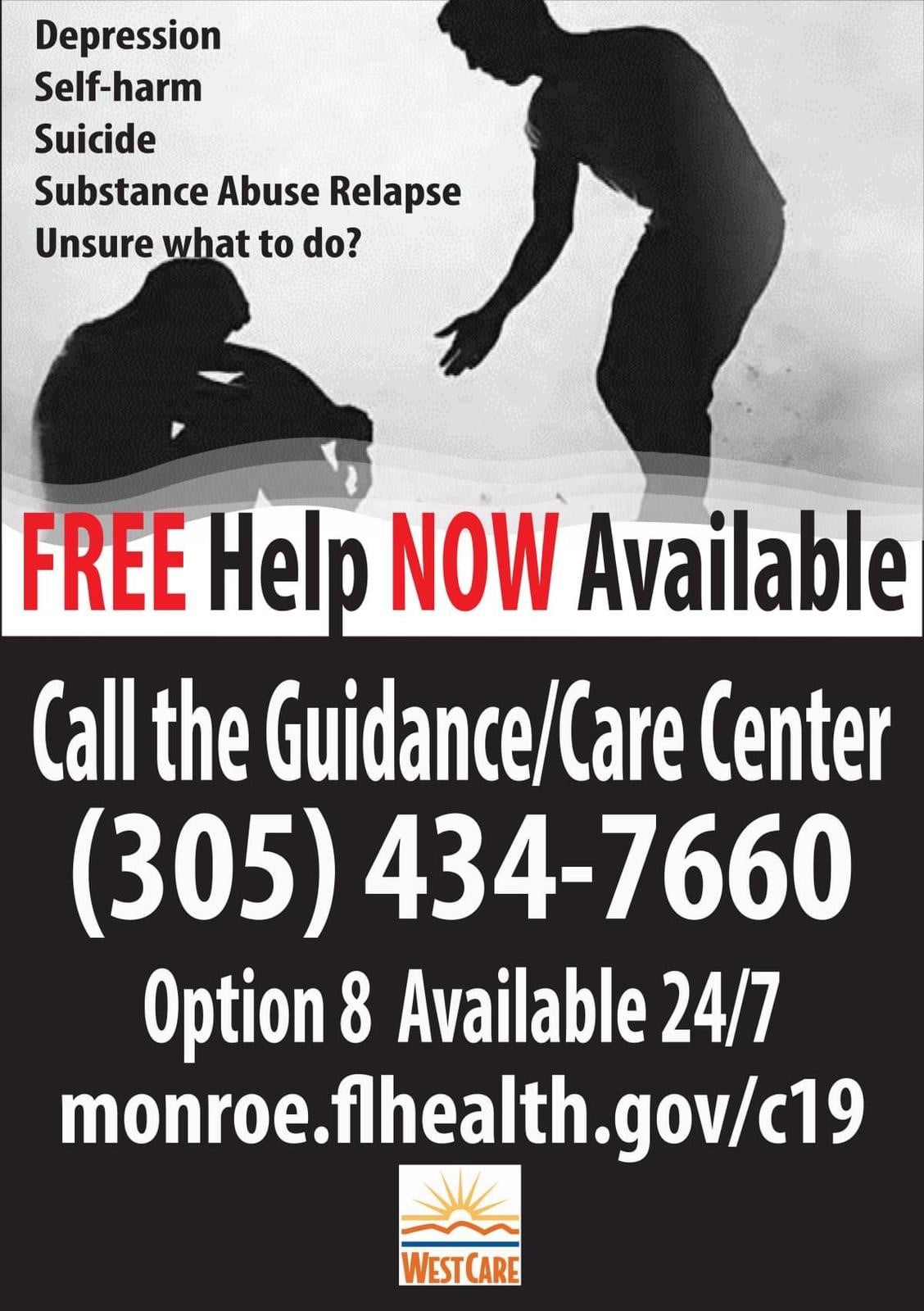 Additional Health Well-Being Resources
General COVID-19 Information
FDOH COVID-19 Provides resources, current situation in Florida and county-specific information.
COVID-19 Data for Florida contains data reports that are generated daily to provide summaries of persons being monitored, persons under investigation and cases in Florida.
Florida's COVID-19 Data and Surveillance Dashboard provides data on the number of cases, deaths and hospitalizations in Florida and in each County.
Centers for Disease Control and Prevention COVID-19 provides resources for how to protect yourself, symptoms, what to do if you are sick, latest updates and more.
World Health Organization includes resources on public advice, country and technical guidance, travel advice, situation reports, media resources, MythBusters and more.
Pertinent to Monroe County
Monroe County's Emergency Management website which provides essential information for businesses, residents and visitors including checkpoint information, information on beaches, parks, airports, lodging, schools, utilities, etc.
Facebook page for the Board of County Commissioners which governs Monroe County and provides updates for residents and visitors.
Resource Guide for Monroe County residents which includes information on unemployment, meal resources, health services, housing services, legal services, senior services, as well as an array of other resources.
Testing
Vaccines
Questions
Call the 24/7 COVID-19 Hotline: 866-779-6121