Skip Global navigation and goto content
It's a New Day in Public Health.
The Florida Department of Health works to protect, promote & improve the health of all people in Florida through integrated state, county & community efforts.
Skip MegaMenu and goto content
Left navigation requires javascript to be enabled in your browser.
The Florida Department of Health in Monroe County in partnership with Ocean Reef Community Foundation held a COVID-19 Vaccine Youth Art Contest in September 2021. 
COVID-19 Vaccine Information
Florida Department of Health in Monroe County
 

Mailing Address

P.O. Box 6193 

Key West, FL 

33040 
COVID-19 Vaccine Eligibility
All those age 18 and older and individuals age 6 months to 17 with parent/guardian consent are eligible for the COVID-19 vaccine. Those under the age of 18 receiving a vaccine must be accompanied by a guardian and complete the COVID-19 vaccine screening and consent form. Ages 6 months to 17 can receive either Moderna or the Pfizer vaccine.
I am eligible to be vaccinated for COVID-19. Where can I get one now?
Visit vaccines.gov to check stock, type of vaccine available, and additional details at the closest retail pharmacy to you.
You can also visit the following direct websites:
Winn Dixie www.winndixie.com/pharmacy/covid-vaccine
CVS Pharmacy www.cvs.com/immunizations/covid-19-vaccine
CHI in Marathon www.chisouthfl.org or call (786) 272-2100. 
Rural Health Network Monroe County in Key West call (305) 517-6613 ext 500.
Messages from Local Residents about the COVID-19 Vaccines
4-minute Video in English
4-minute Video in Spanish
I need a COVID-19 Vaccine Record. How do I get a copy?
You can request your COVID-19 vaccination records directly from Florida SHOTS by filling out the Florida Department of Health form – DH3203 Authorization to Disclose Confidential Information form online, electronically sign and submit it. To fill out the form online and submit, click here
Note: This form is for use only by individuals aged 18 years and over to request their own COVID-19 vaccination record. DO NOT use this form to request records for another individual. Each individual is responsible for their own request. Currently, records of minors (aged 17 years and below) are not available through this request portal. Please contact your healthcare provider or local county health department to request records for minor.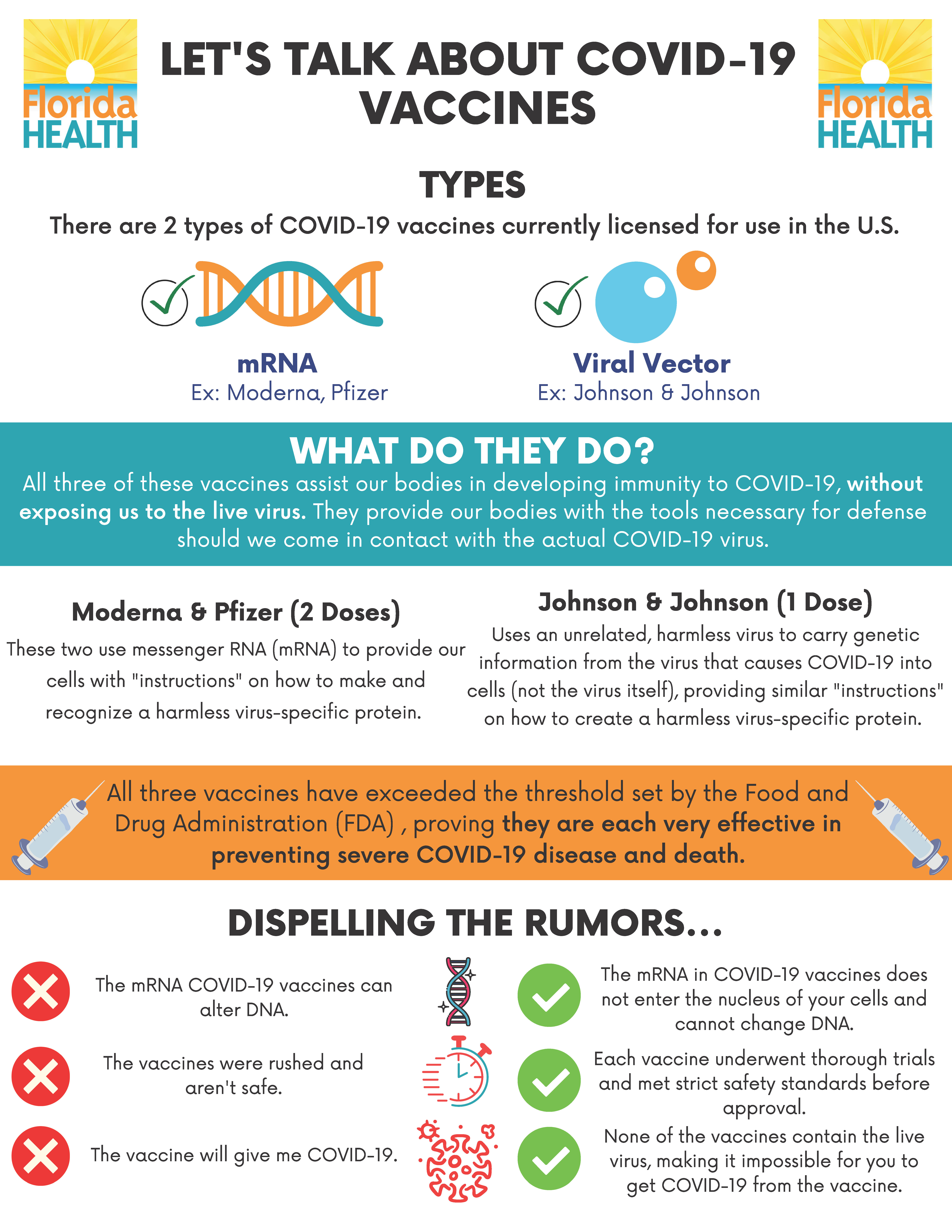 Learn more about COVID-19 vaccines in Florida.
COVID-19 vaccines will not give you COVID-19.  None of the vaccines use the live virus, so you cannot become infected with COVID-19 with the vaccine.

COVID-19 vaccines will not cause you to test positive on COVID-19 viral test.

Receiving an mRNA vaccine will not alter your DNA.

Getting vaccinated against COVID-19 can help prevent getting severely sick, hospitalized, and dying due to the virus.

People who have gotten sick with COVID-19 still benefit from getting vaccinated. It is unknown how long natural immunity lasts once someone contracts COVID-19. Getting vaccinated is the best way to protect you from serious illness, hospitalization, and death.

Severe reactions to COVID-19 vaccines are extremely rare (2.5-11 cases per 1 million doses, largely in individuals with history of allergy).

Potential side effects are normal signs your body is building protection. These side effects go away in a few days. Some people do not have side effects.

The vaccines were not rushed.  The vaccines were developed using science that has been around for decades. There were no safety shortcuts. All COVID-19 vaccines have proven to be safe.

The vaccines do not cause infertility. The vaccines do not affect any organs, including reproductive organs.

In addition to facing the possibility of being seriously ill , hospitalized, or dying, getting COVID-19 can have potentially long-term health consequences, including lung problems, long-lasting fatigue, joint pain, and brain fog.

If you are in the small percentage of breakthrough cases, the vaccine will protect you from serious illness, hospitalization and death.
For more facts, visit the CDC's website for Vaccine Information. This website is regularly updated. Please refer to it when questions arise.
COVID-19 Vaccines FAQs
Why the change in guidelines?

VARIANT AND BREAKTHROUGH CASES INFORMATION
Does the vaccine protect against variants?
All COVID-19 vaccines that are currently available offer protection against variants.
Why get the vaccine if there will just be more variants?
The more people receive the vaccine there will be less risk of severe illness if vaccinated.
Where can I find information on variants in Florida?
I have heard reports of "breakthrough cases." What is that?
A breakthrough case means that someone who is fully vaccinated gets the virus. This is not uncommon and can happen with other illnesses, such as chicken pox (varicella) and the flu (influenza).
Why get the vaccine if I can still get the virus?
The vaccine has been proven to REDUCE the severity of the illness, hospitalizations, and deaths from COVID-19.
VACCINE INFORMATION
I don't live in Monroe County; can I still receive a vaccine? OR Why are non-Monroe residents allowed to receive a vaccine?
The vaccine rollout is a nationwide effort. There are no exclusions based on residency. The vaccine is readily available in our community.
How do I find out where vaccines are being given?
Visit vaccines.gov to check stock and type of vaccine available near you.
My child is 6 months to 17 years of age. Where can I get the Moderna or Pfizer vaccine?
Visit vaccines.gov, enter your zip code and click either Moderna or Pfizer to check stock at the nearest pharmacy near you.
I have received my two doses. I want a booster. Where can I get one?
Visit vaccines.gov and follow up with the pharmacy to ensure they provide the booster.
SECOND DOSE QUESTIONS
I received a Moderna vaccine. Can I receive a Pfizer vaccine for my second dose? (or vice versa)
Yes, eligible individuals may choose which vaccine they receive as a booster dose, when available. Some individuals may have a preference for the vaccine type that they originally received, while others may prefer to get a different booster. The Center for Disease Control and Prevention's recommendations now allow for this type of mix and match dosing for booster shots of COVID-19 vaccine.
I received my 1st dose. How will I get my second dose?
Your vaccine card will have the date written down when should receive your second dose.
How will I schedule my appointment for the second dose?
You may schedule your second dose at a local retail pharmacy, such as CVS, Publix, Winn Dixie, or Walgreens. Confirm with the pharmacy first to ensure they have the right second dose vaccine that you need. Receive your second dose vaccine indicated on or after the date indicated on your vaccine card. The vaccine is readily available in our community.
What do I bring to receive the vaccine?
A form of ID is needed. Florida ID not required. Anyone in the state for the purpose of providing goods or services is eligible to receive the COVID-19 vaccine in Florida. Please bring a blue or black pen to complete the registration form. If you are receiving a booster/additional dose please bring your CDC vaccine card of proof you received the initial series to your booster appointment. 
Do I need to get my second dose of the Moderna or Pfizer vaccine?
Yes. To be considered fully vaccinated, two doses are needed. The only available one-dose vaccine in the United States to be considered fully vaccinated is the Johnson & Johnson vaccine. Residents and visitors are more protected from severe illness, hospitalization, and death if they are fully vaccinated.
When Are You Up to Date?
You are up to date with your COVID-19 vaccines when you have followed the current recommendations listed below. The recommendations will be different depending on your age, your health status, and when you first got vaccinated.
Many people who are immunocompromised may need an additional dose as part of their primary vaccine series.
Note that booster shots are not recommended for everyone at this time.
Click here to see if you are "Up to Date".
County-Level COVID-19 Vaccination and Case Data