Skip Global navigation and goto content
About COVID-19
Florida Department of Health in Monroe County
 

Mailing Address

P.O. Box 6193 

Key West, FL 

33040 
Monroe County COVID-19 Newsletter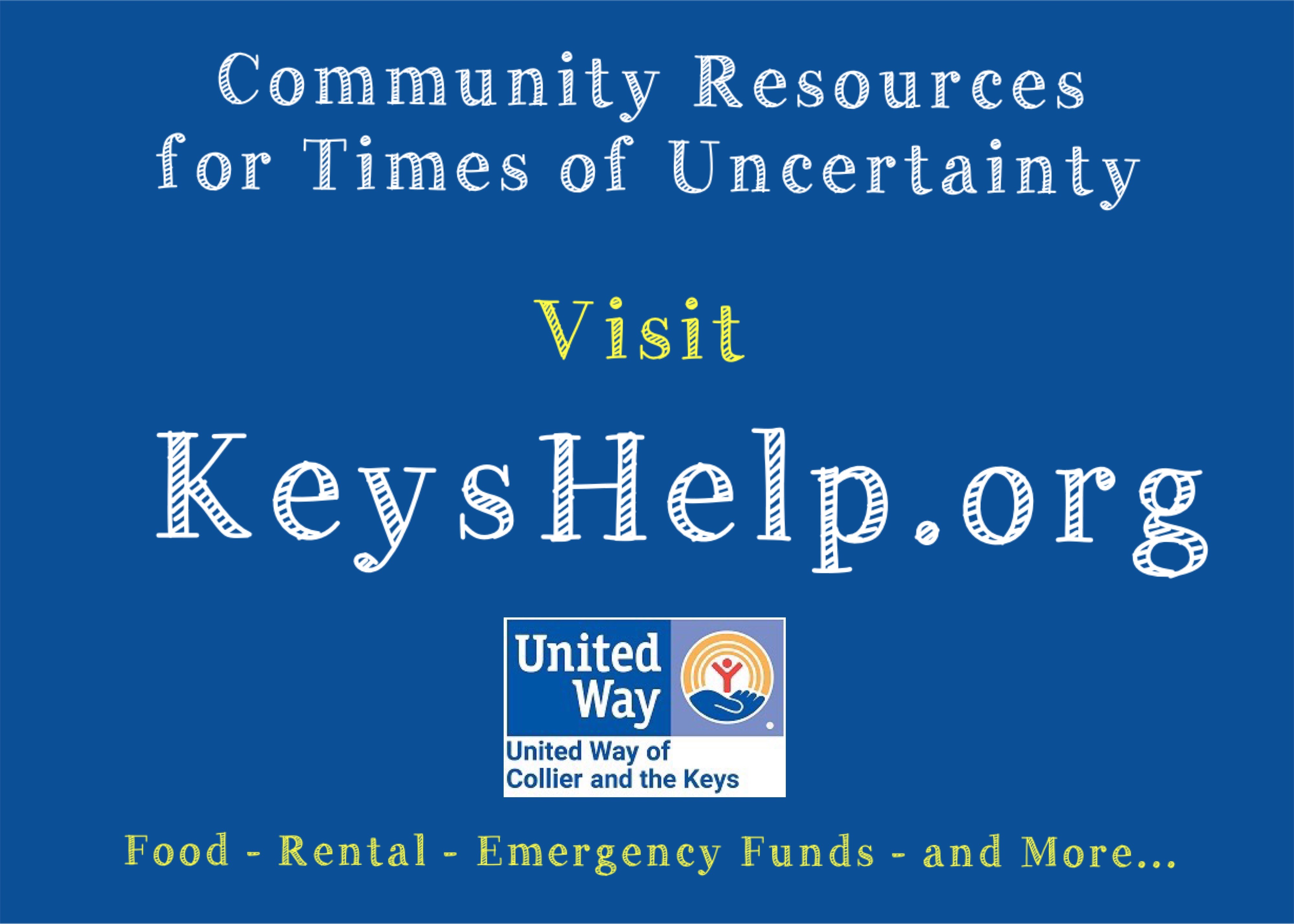 The Florida Department of Health in Monroe County asks that you please stay vigilant; wear a mask, social distance, and always wash your hands.  Those who are vaccinated should continue to follow these criteria.  
What is COVID-19
COVID-19 is a newly emerging disease that has a wide range of symptoms reported – ranging from mild symptoms to severe illness.
Symptoms may appear 2-14 days after exposureto the virus. Symptoms include but are not limited to:
Fever or chills
Cough
Shortness of breath or difficulty breathing
Fatigue
Muscle or body aches
Headache
New loss of taste or smell
Sore throat
Congestion or runny nose
Nausea or vomiting
Diarrhea
How is it Spread?
Person-to-person and between people who are in close contact with one another (within about 6 feet).
Through respiratory droplets produced when an infected person coughs, sneezes, or talks.
These droplets can land in the mouths or noses of people who are nearby or possibly be inhaled into the lungs.
COVID-19 may be spread by people who are not showing symptoms.
Everyone plays a part in lowering the impact within our communities and workplaces – taking every day preventative actions helps to impede the spread of respiratory diseases such as COVID-19.
Preventative actions include:

Washing your hands frequently with soap and water for at least 20 seconds, especially after going to the bathroom, before eating, and after blowing your nose, coughing or sneezing. If soap and water are not available, use an alcohol-based hand sanitizer with at least 60% alcohol.
Avoiding close contact with people who are sick.
Staying home when you are sick. This message cannot be emphasized enough.
Employees who have symptoms of acute respiratory illness are recommended to stay home and not come to work until they are free of fever (100.4° F or greater using an oral thermometer), signs of a fever, and any other symptoms for at least 24 hours, without the use of fever-reducing or other symptom-altering medicines (e.g. cough suppressants). Employees should notify their supervisor and stay home if they are sick.
What do I do if I think I'm sick with COVID-19?
If you are infected with COVID-19 we suggest that you call your primary healthcare provider to get information on what you should be doing to protect yourself and your family from COVID-19. The CDC recommends for those who are ill with COVID-19 to stay home except to get medical care:
Stay home. Most people with COVID-19 have mild illness and can recover at home without medical care. Do not leave your home, except to get medical care. Do not visit public areas.
Take care of yourself. Get rest and stay hydrated. Take over-the-counter medicines, such as acetaminophen, to help you feel better.
Stay in touch with your doctor. Call before you get medical care. Be sure to get care if you have trouble breathing, or have any other emergency warning signs, or if you think it is an emergency.
Avoid public transportation, ride-sharing, or taxis.
As much as possible, stay in a specific room and away from other people and pets in your home. If possible, you should use a separate bathroom. If you need to be around other people or animals in or outside of the home, wear a cloth face covering.
Monitor your symptoms
Symptoms of COVID-19, such as fever and cough.
Follow care instructions from your healthcare provider and local health department. In Monroe county we call daily to those who have COVID-19 to help monitor their symptoms and well-being.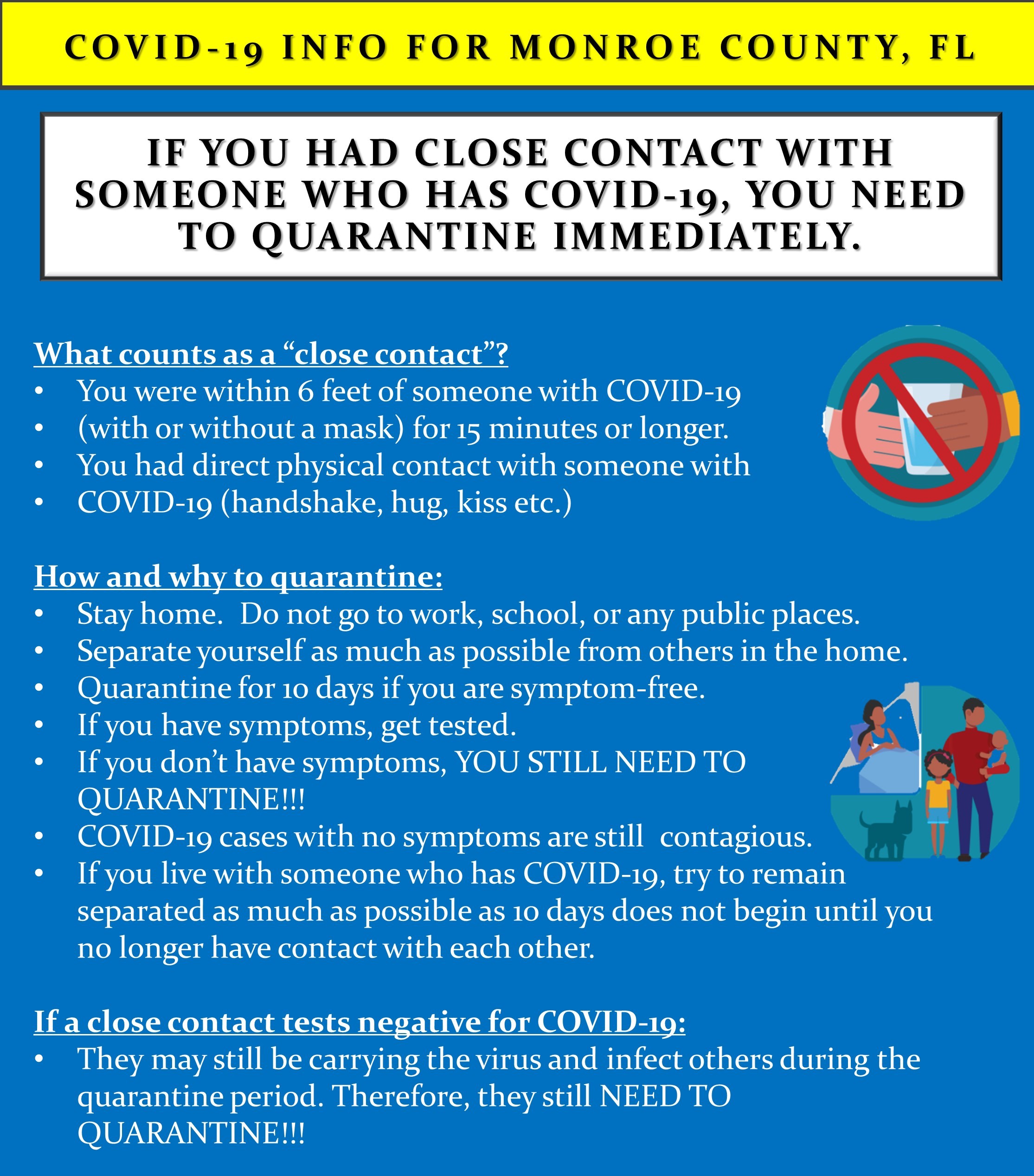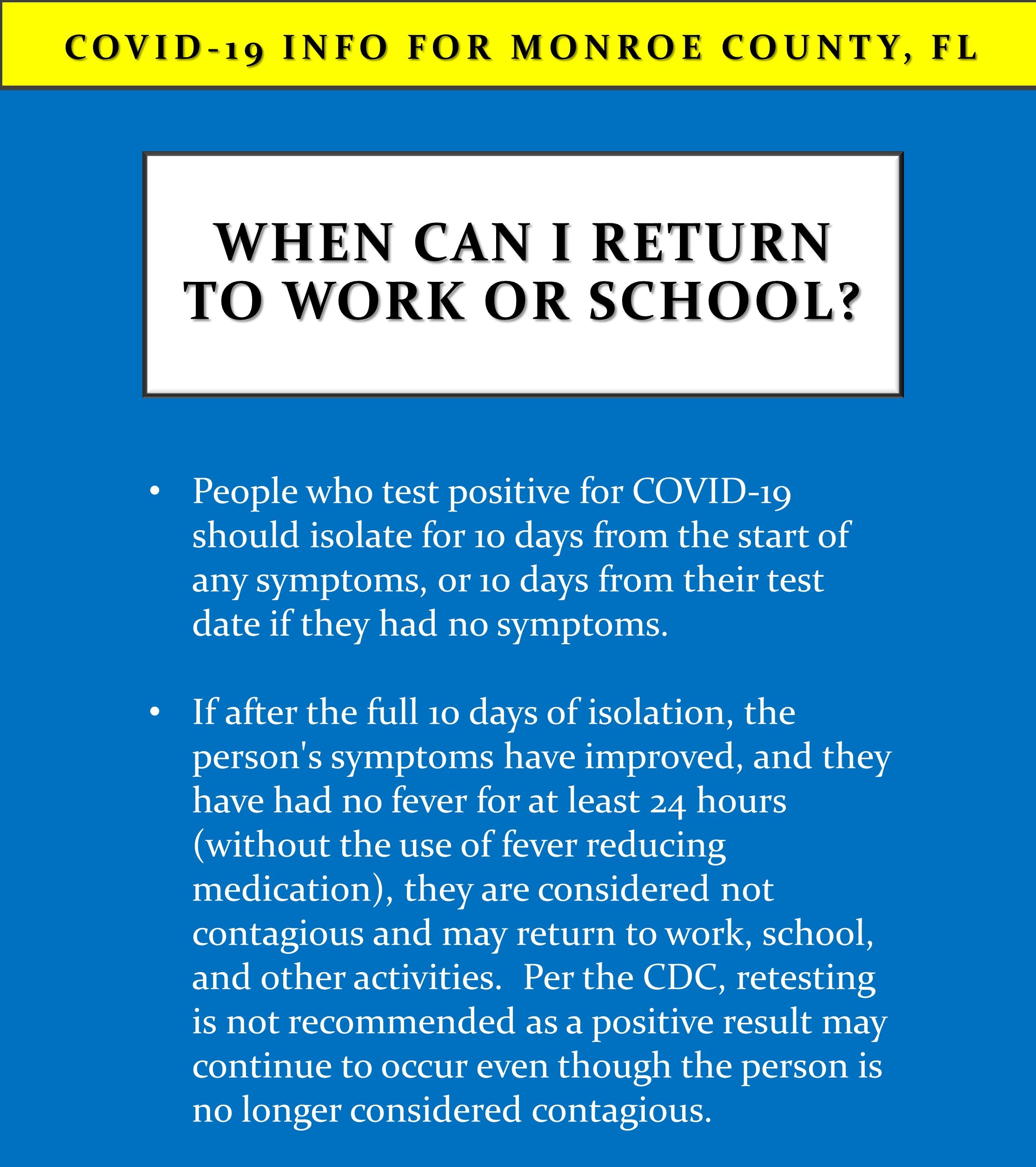 Monroe County Laws and Mandates for COVID-19
Visit Monroe County's resource website for information on the most updated laws and mandates.
Reporting Violations of Current Mandates
To report violations of Florida's current mandates, please report to code compliance at the following numbers:
Unincorporated Monroe County Dedicated Non-Compliance Number: 305-289-2819
Key West Code Compliance Number: 305-809-3740
Marathon Code Compliance: 305-289-5024
Key Colony Beach Code Compliance: 305-289-1212 ext. 3
Islamorada Code Compliance: 305-664-6435
Layton Code Compliance: 305-664-4667
If after hours, or the weekend, leave a message and the complaint will be addressed the following business day. After hours or weekend issues needing immediate attention, call the Monroe County Sheriff Office Non-Emergency Line at 305-289-2351 for unincorporated Monroe County and Key West Police Department at 305-809-1000 for the City of Key West.
Hotels and Restaurants
The Department of Business and Professional Regulations has published mandatory measures and best practices for food service establishments. Requirements for restaurant employee screening can be found in EO 20-68. DBPR recommends that restaurants follow the CDC guidelines.
DBPR's Division of Hotels and Restaurants (DHR) continues to conduct inspections of public food service and lodging establishments in response to public complaints and processing of licensing matters.   Public health and safety in food service environments remains a priority focus of the Division, and the Division will continue to respond to these matters and support food service operators with maintaining food safety standards during this emergency.  As part of the Department's effort to maximize distribution of guidance to food service operators related to this emergency, DHR inspectors have been tasked with additional direct outreach assignments to contact operators by phone with information related to the recent executive orders pertaining to restaurants.  These assignments supplement inspection activity that remains ongoing for responding to public complaints and other license matters.
DBPR's cooperative approach to guiding restaurant owners and managers on these operational matters has helped establish a priority focus on achieving and maintaining compliance that, to date, has not necessitated additional administrative actions.
Report a complaint with DBPR in relation to compliance during Safe.Smart.Step-by-Step. Plan for Florida's Recovery.
Note, the Department of Health is not able to comment on ongoing investigations regarding suspect COVID-19 cases at restaurants and hotels. When the Department of Health receives notification that a person has tested positive for COVID-19, the department conducts an extensive epidemiological investigation in conjunction with the CDC to identify individuals who may have had close contact with the virus. Those individuals are then notified by their county health department and instructed to self-isolate for 14 days after their exposure to the virus, and to contact their county health department and health care provider immediately if they develop symptoms. This process is followed for all individuals who test positive in Florida.
Resources for Tobacco Users
There is reason to believe that people who smoke or vape could be more vulnerable to COVID-19. The scientific and medical community is just beginning to understand the link between smoking and COVID-19.What we know is that quitting smoking is the best thing you can do for your overall health. The sooner you quit, the sooner your body can begin to heal.
Tobacco Free Florida's Quit Your Way program offers tools and services that are free and proven to help you quit smoking. You can learn more about all our tools and services at tobaccofreeflorida.com/quityourway.
What phase is Florida in Reopening?
As of September 25, 2020 Florida, moved to Phase 3 of reopening.
Read the State's Taskforce Report for information on Florida's reopening plan. 
Stay updated on COVID-19 and the latest number of cases in Florida by visiting the State's COVID-19 resource website.
Questions about COVID-19?
If you have any question, please contact the following numbers:
Florida Department of Health Call Center,  866-779-6121 (24 Hours)
Key West Information Hotline/Key West Related Questions Only: 8:00 AM to 8:00 PM: 305-809-1101
Resources and Information provided by the CDC:
CDC information about the COVID-19 vaccines
CDC information and suggestions for how to stay safe in community environments
CDC Recommendation of how to stay healthy by social distancing
CDC guide of what to do if you are sick with COVID-19
CDC Reopening disinfecting guidance for homes, businesses, schools, etc.
CDC Discontinuation of Isolation for Persons with COVID-19
CDC Frequently Asked Questions Page
CDC Key Resources on prevention and control, laboratory capacity, and more
CDC Resources for Limited-English-Proficient Populations
CDC Resources for older adults
CDC Resources for Newly Resettled Refugee Populations
DCF's Information and Updates for Families and Children
DCF's COVID-19 Economic Self-Sufficiency (ESS) ACCESS
Switchboard's multilingual resources on COVID-19
Red Cross resources to assist immigrants
Florida Attorney General consumer alert regarding fake COVID-19 tracing calls